Since one of the other contributors to the HFR beat me to it, I'm posting my review of
Jackpot
, by Shane McKenzie, Adam Cesare, David Bernstein and Kristopher Rufty ... coming soon from
Sinister Grin Press
!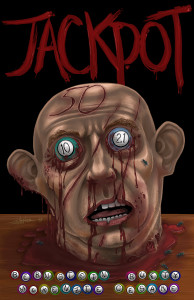 It's an interesting question, really, when you think about it. What WOULD happen if exactly the WRONG person won a whooooooole bunch of moola?
Not just those regular folks we all see on the news, the ones who work seventy hours a week scraping in the sludge mines and announce they still intend to keep their jobs (the heck, seriously!), not just the ones so old it looks like they'll have maybe all of a month left to enjoy it … not someone already so well off that the last thing they need is more money … I'm talking the BADWRONG kind of person, the dangerous kind.
Like, say, an ambitious, inventive, depraved, but strapped-for-cash murderous maniac serial killer?
An interesting question, and when put to a panel of experts such as those here assembled, fodder for one sick and twisted doozy of a book. Or, rather, a series of sick and twisted book-doozies; this is just the first.
Plenty of lottery players have their systems, their superstitions, their lucky numbers and rituals. Booker, well, Booker goes a little above and beyond in pursuing his fate and fortune. With the help of his victims, he chooses his numbers, buys his ticket at the usual convenience store, and … well … he wins.
He wins bigtime. Big bucks bigtime. More than enough to make all his dreams come true. Like, say, a house custom-built to his exact designs, complete with playrooms and dungeon. A soundproof van. That sort of thing.
A loner with no family, it never occurs to Booker that his newfound wealth might draw some attention. Such as, from Frank, a helpful lawyer whose specialty is helping windfall winners manage their money … at reasonable fees, of course. Or from the clerk who sold him the ticket. Or from another customer who feels cheated.
There's also the detective looking into the case involving the leftovers from Booker's lucky numbers. He knows he's on the trail of a monster, but, he's about to discover he has no idea what he's getting himself into.
Packed to capacity with blood, gore, torture, and mutilation machines inventive even in this day and age of the Saw movies and their ilk, Jackpot deserves and lives up to its name. Provided, of course, that the jackpot you're into involves reading in the splatter zone!
Pre-Order now for September 23rd release date!